Robert Walters Executive Insights Series Breakfast Forum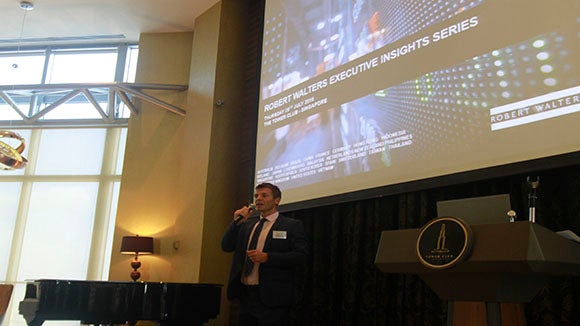 At the second annual Executive Insights event hosted by Robert Walters, company representatives learnt more about the implications of the current Southeast Asian economy and cyber security on their business and hiring plans. The two featured speakers were Richard Martin, Managing Director of IMA Asia and George Little, Partner at Brunswick LLP.
Richard shared an overview of the economic and political developments in Southeast Asia. He highlighted how for the ASEAN countries, factors like current market slowdown, traditional politics, improving operating environments, the presence of a sound team of central bankers and stable domestic demand could impact on the business plans of companies.
George spoke on how companies can prepare for cyber threats. Asia is highly susceptible to cyber attacks as security updates are falling behind other global areas. Recognising the strong links between cyber security and corporate reputation, George shared good and bad case studies of companies in cyber crises, and offered insights into how he has helped to improve cyber threat awareness.
If you are keen to attend any Executive Insights events in future, please contact singapore@robertwalters.com