In The News: Salary Survey 2020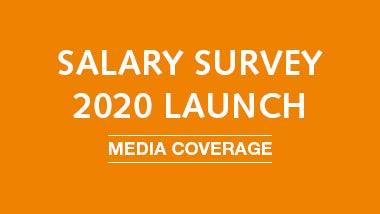 As tech and transformation remain the dominant focus for the region, companies are stepping up efforts to build a resilient workforce for tomorrow, ready for an increasingly digital landscape. These are among the insights from our latest annual Salary Survey, launched in November 2019.
Overall, companies are seeing demand for experienced technology professionals with hybrid skillsets, as well as professionals who are able to leverage new technology within their work to position the business for growth, in industries such as human resources and finance. There is need for risk and compliance professionals, as well as risk, compliance and legal talent with specialist knowledge in technology as regulatory requirements and guidelines evolve alongside digitalisation.
Forward-thinking companies today are looking beyond digital skillsets, but instead, ways to holistically future-proof their workforce in an increasingly data and digital-driven business environment. By hiring highly versatile and flexible employees with high potential, investing in customised training to upskill employees, and offering them opportunities to interact with various levels of management, companies gain an edge in winning over top talent.
Eric Heung, manager of Supply Chain and Procurement, shared his insights from our Salary Survey 2020 on MONEY FM 89.3. You can listen to the radio interview here.
Check out the related articles published by the local media.
To find out more about the latest recruitment market updates, hiring advice and salary trends, download our latest Salary Survey 2020.
For more information, please email us at singapore@robertwalters.com.