Celebrating 20 Years of Recruitment Excellence with Robert Walters Singapore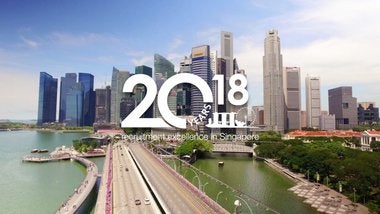 Robert Walters Singapore is proud to celebrate its 20th year of recruitment excellence. Our Singapore office was the first in SEA to open on 3rd May 1998 and is now the regional headquarters for our SEA countries, Malaysia, Indonesia, Thailand, Vietnam and the Philippines.
Over the past 20 years, not only has Robert Walters Singapore expanded in size of its operations and headcount, it has also launched several initiatives and has achieved multiple accolades and recognition on a local and regional level.
Following the implementation of the Fair Consideration Framework, Robert Walters Singapore launched the Balik Kampung campaign in 2014 to attract Singaporeans currently living and working abroad to come home. This campaign offers a talent pool of more than 3,000 previously untapped overseas Singaporeans who are professionally qualified from various disciplines. Since its launch, the campaign has received two innovation awards and has gained recognition on a global level.
Robert Walters Singapore also won silver in the Best Recruitment Innovation category at the HR Asia Recruitment Awards 2015, while its HR team won Best Recruitment Firm – HR/Admin Positions in 2016. Additionally, the company clinched the title of the top three of LinkedIn's global list of the 25 Most Socially Engaged Companies in the Recruitment Industry for 2016 and 2017 and also for the Best Use of Social Media at the Global Recruiter Awards 2016.
2017 also saw the launch of the first ever Greater China and Southeast Asia Salary Survey. 
Leading the development of Robert Walters' business in Singapore is Rob Bryson, the firm's managing director.
"I would like to sincerely congratulate our entire team here at Robert Walters Singapore for achieving this milestone. I am immensely proud of the successes we have achieved over the past 20 years, and would like to thank our staff for their hard work, professional drive, and commitment," he said.
With the nation seeing a strong economic outlook, Robert Walters Singapore is in an excellent position to meet and support companies as they tackle skill shortages and other business transformation challenges.
"I see a tremendous opportunity to grow further – to intensify our support for high growth sectors such as Technology, maintain our focus on key practices, identify relevant in-demand skillsets, and uphold the expectations and trust that our clients have in us," Rob added.
We thank our candidates, clients, employees, and shareholders for their contributions to our continued success.