Empowering Women in the Workplace - ''The Heel Appeal'' Panel Discussion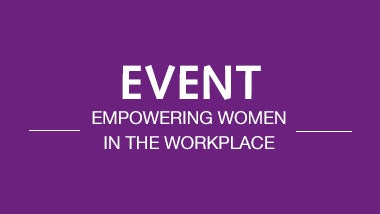 In conjunction with International Women's Day, Robert Walters Singapore held our first-ever "The Heel Appeal"* panel discussion event with close to 50 guests in attendance. "Empowering women in the Workplace" was the topic of discussion and our esteemed panel speakers weighed in on the topic as well as shared personal anecdotes.
Sharon Tan, Director of Change Communication Initiatives for LIXIL International, commented that "diversity is really just different ways of thinking" and that we should not get locked into the endless and pointless male versus female gender battle. Diversity is about identifying oneself as unique and building upon one's strengths. Echoing the same sentiments, Tricia Duran, HR Director - RHQ Singapore of Unilever Asia, strongly believes in authenticity and "having clarity of thought as to what type of leader you want to be".
The topic of mentorship and networking enabled very lively discussion among guests and panellists and there was general consensus that having a mentor and networking were both critical in pushing one's career ahead. Anyone who is serious about getting ahead in their career needs to have a mentor or a sponsor who can provide guidance and mentorship in competencies you are lacking. Networking both inside and outside of your company will help you find your advocate. Mark Gabel, Vice President (Industrial Aftermarket, SEA) of Schaeffler Singapore, further emphasised the importance of networking by saying that it was vital to "build a network outside of your organisation because it is not what you know but who you know that will open doors for you."
Over time and as one moves up the corporate ladder, Toby Fowlston, Managing Director of Robert Walters Southeast Asia, noted that people will reach a stage where they will then be someone's mentor and there will be a shift in focus as they take the lead in helping and developing other mentors.
Ravi Bhogaraju, Global Head HR Textile Chemicals and Head of HR Asia of Archroma Singapore, believes that all companies should capitalise on the diversity of thought that can only be brought about when you have a diverse group of people working together hence why gender diversity in a company is crucial. He dispenses the same advice to females or males who want to take on a leadership position or a bigger remit – "Don't quit. You will fail. Everyone does. Learn the lesson and get on with it. If you don't fail, you will never learn. Try. Take a risk."
We thank all our guests and panellists for taking the time to participate in our inaugural "The Heel Appeal" event and we look forward to hosting more of such engaging discussions in the future.
*The Heel Appeal is a Robert Walters-led initiative to make workplaces more inclusive and supportive of women. "The Heel Appeal" is a tongue-in-cheek tagline that seeks to identify issues that may be limiting the career development of female employees, and offer ways to empower women charging ahead in their careers.