Channel NewsAsia: A More Mobile Workforce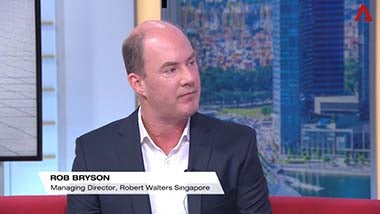 In the latest session of Channel NewsAsia's 2-hour breakfast program, First Look Asia, Rob Bryson, Managing Director of Robert Walters, Singapore was invited to discuss on the topic of an increasingly mobile workforce.
The interview touches on the advantages of having a mobile workforce, and how it can increase productivity in a company. Rob exemplified that Singapore would be able to tap into skill sets from across boundaries through virtual settings enabled by technology, increasing the talent pool in Singapore. 
''The more inclusive and diverse we are, the better the workforce and the more benefits and skills you get,'' Rob revealed.  
The idea of flexible work arrangements will also result in a happier workforce, where employees are able to choose when they want to work.
Rob explained, ''Being able to go home and have dinner with your kids, and then working afterwards, is a very attractive option, compared with going home at 8pm and not seeing your kids at all.''
Of course, there are pros and cons to having a mobile workforce. Some potential risks that were raised in the interview included the lack of supervision of employees that can work away from the office.
View the full video of the interview here.