Robert Walters Singapore raises a record amount of $11,950 for Charity Day 2018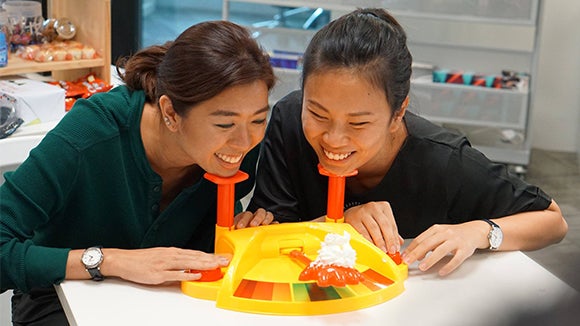 The Robert Walters Group held its annual global fundraising event on 12 October 2018 and the Singapore office, comprising of Robert Walters and Resource Solutions staff, raised a record amount of S$11,950 for Beyond Social Services.
Overcoming personal fears for good
This year's theme for our Singapore office was "Fear Factor". Members of staff were challenged to face their fears to garner support for our selected charity recipient. Fund-raising activities included food challenges such as "Bean Boozled", a jelly bean Russian roulette with nasty flavours such as stinky socks, and an international delicacies challenge. We saw brave foreign members of the staff conquering local dishes, such as century egg and durian, and daring local staff members sampling fried insects. We also had a mystery box challenge where staff members relied on their sense of touch to guess an unknown object placed in a box. Pie face, a competitive game where two participants pit their button-mashing skills to get whipped cream on the other's face, had the office buzzing with excitement.
In addition to these activities, we held a sale for eco-friendly utensils, to further underscore our commitment to reduce plastic waste. We also conducted an internal auction of items kindly donated by our clients. This alone saw us raise S$2140, the highest amount among all the activities conducted in the Singapore office.
The Resource Solutions team also conducted their very own iron man challenge which involved a gruelling 3.8km swim, a 180km bicycle ride and a 42.2km run.
Supporting Beyond Social Services
Beyond Social Services is a charity dedicated to helping children and youths from less privileged backgrounds break away from the poverty cycle. The Voluntary Welfare Organisation (VWO) provides guidance, care and resources that enable families and communities to keep their young people in school and out of trouble.
Find out more about Beyond Social Services.