On CNBC Asia: Working professionals in Asia have the power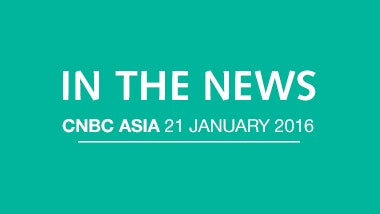 The economic slowdown in China, emergence of new technologies, and increased focus on local talent will emphasise the need for corporations to remain competitive in Asia's candidate-driven employment market.
In a live television interview with CNBC Asia, Toby Fowlston, Managing Director for Southeast Asia, Robert Walters, spoke of market trends and challenges in 2016 that will also present opportunities in Asia.
• Manufacturing has slowed in China, but digitalisation will continue to fuel the demand for professionals adept in big data and mobile.
• More manufacturing operations have moved to emerging markets such as Vietnam, Thailand, Laos and Cambodia.
• Bilingual professionals with regional experience will have an edge over other job seekers, particularly in Japan.
• Contracting will become more common in Singapore and Hong Kong, driven by the slowdown in banking and financial services. 
The Robert Walters Global Salary Survey 2016 looks at employment opportunities, skills shortages and salary expectations in specialist disciplines, based on an analysis of placements across Robert Walters' network of offices in the course of 2015. Download your copy here. 
Watch the full CNBC Asia interview below or access the full Robert Walters YouTube Channel.
Source: CNBC Asia