Southeast Asia's top hiring trends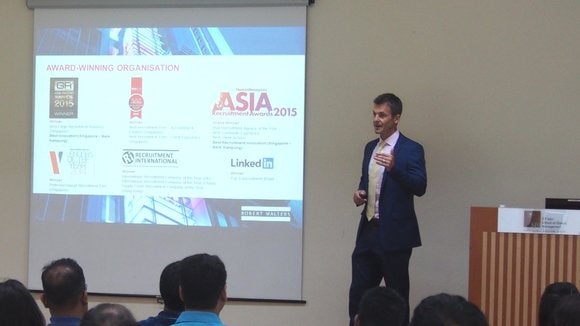 Despite slower economic growth in some regions, demand for talent in Southeast Asia has grown – particularly for those in information technology.
That was one of the key insights shared by Toby Fowlston, Managing Director, Southeast Asia, Robert Walters, who was speaking at SP Jain School of Global Management's "Visiting Wisdom" programme on 17th October 2016.
Conducted mostly by top management executives, this programme aims to give MBA students a real world glimpse into various business-related topics, including top recruitment trends.
Having over 30 years' experience managing the careers of the world's leading professionals, and the only specialist professional recruitment company with six offices in Southeast Asia, Robert Walters was invited to speak in this programme.

"We work with companies of varying sizes on a local and global level, and recruit in various market sectors such as information technology, banking & financial services, sales & marketing, and more," Toby said in his introduction.
He noted that with more firms shifting from traditional retail to e-commerce businesses, specialists in e-commerce and digital technology are in high demand across all sectors in Singapore, Vietnam and Malaysia.
"Plus, with NTUC making benefits of contracting more transparent and appealing to jobseekers, we anticipate more skilled contracting professionals will be required to manage large-scale transformation programmes and regulatory-driven projects in Singapore, " he added.
However, hiring is expected to remain cautious in Thailand, except for within the IT sector.
"There is strong demand for IT talent, especially in Thailand's insurance industry, with more companies moving into the digital space and aligning business needs with social media trends."
Echoing this trend, Vietnam is also becoming a major strategic business hub for IT professionals, with there being increase in demand for cloud computing, big data, and information security professionals.
Toby observed companies across Southeast Asia are increasingly looking to hire local talents, as barriers to entry for overseas workers remain high, especially in Indonesia and Singapore.
Accordingly, as local talent becomes more sought after, Robert Walters has dedicated campaigns in the region that are focused on helping Asians living overseas find work back home.
Click here to know more on these multiple award-winning campaigns in Singapore, Indonesia, and Vietnam.  
For more insights on Asia's job market, don't miss our latest Asia Job Index 2016.