Why women need to be uncomfortable in their roles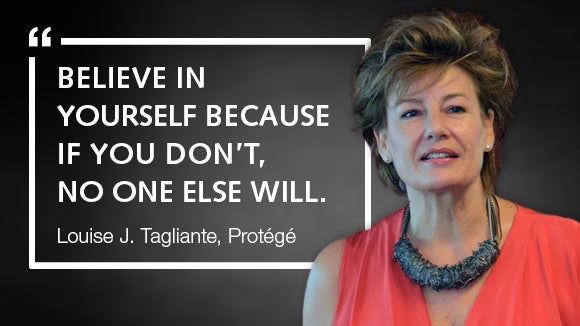 In conjunction with this year's International Women's Day, we spoke with Louise Tagliante, Managing Director of Protégé, on the secrets to her professional success and what women can do to reach their full potential at work.
Briefly sum up what you do in your current role
Our company sets women up for personal and career success via several professional programs. We encourage them to step outside of their comfort zones, get uncomfortable, and to really start working towards achieving what's going to make them happy. We question and challenge their self-imposed limitations. We do that through very robust and structured mentoring programs and we ensure that these women are fully supported and taken care of as they start implementing the changes we suggest in their personal and professional lives. In addition to this, I also run and set up a lot of leadership programs for women.
What challenges did you face as a woman in your own professional journey and how did you overcome them?
I had an amazing mentor, who kept presenting me with and pushing me to take on high profile roles and responsibilities. This definitely kept making me uncomfortable and challenging me to the core, but helped me realise that I was much smarter than I thought I was.
Another challenge was moving to Singapore to set up a business school here. It ended up being an internal promotion for me. Unfortunately, some of the male colleagues in the organisation did not want a woman in an expatriate role in Asia. However, this didn't deter me and I was the first woman to be moved in that company as an expat.
I felt the move was very encouraging for women in Asia who had only seen males get transferred to other countries for senior positions. I started to think differently about my role. Being the only female in an expatriate role in my company, I felt I was able to act as a role model and help in mentoring other women professionals.
What exactly is the role a mentor plays in women's professional lives?
To be quite honest with you, women are over mentored as compared to men and a lot of women don't specifically set out to find a mentor. They don't often like asking for one. However, if you are not being mentored to reach whatever goals it is you set for yourself, it is not unlikely that you won't ever achieve them.
Essentially, we need the support of everyone around us to achieve what we want to out of life.
What can men do to ensure the workforce is a level playing field for women?
We have always had male mentors on our programs. And as they get to know their female mentees who work for a completely different company and industry, they build a lot more trust with them. Often, these women tell their male mentors really what goes on at work. A lot of times this is a new experience for them as often women don't tell them the truth in their own organisations. The male mentors in our programs are so invested in their mentees succeeding and they're kind of shocked about what they're hearing so they go back to their organisations and they ask about "do we have these policies in place that prevent women from moving up or holding them back?" And also, "are we doing all we can to make sure they succeed in their careers?" Quite often they find that there is something that they can do to empower women in their workplaces. So essentially, they are seeing women through a very different light by the mentoring that's going on with the young business women. And as a result of this, more and more men in senior positions are having internal conversations within their organisations to boost gender equality in the workplace.
Men definitely have a role to play; women are not going to move up without them. And I think part of their role is to change the environment at senior level so that it's a more pleasant place to work in.
Any advice you wish you had been given early on in your career?
Like a lot of women, I had an amazing job, I worked really hard, I was an over achiever and I thought it would get me the promotion and the bonus at the end of the year, but it didn't. In fact, if I hadn't been given the visibility by my big mentor, I probably wouldn't be where I am today.
One message you'd like to give women professionals this International Women's Day?
Totally, and unconditionally believe in yourself. If you don't believe in yourself, no one else will believe in you. Get out of your comfort zone, get constantly curious, get uncomfortable and keep asking about things, keep putting your hand up for things challenging and high profile so that you're seen and heard.
Click here for more in-depth career advice or contact us for a confidential discussion.